So, it appears that we've neglected the blog for the last YEAR! *gasp* Maybe it's because we've been planning a wedding…

Or maybe it's because the massive overhaul of the kitchen really wore us out. Either way, we've continued to make some improvements on our home, but haven't been so good about keeping ya'll up to date with the blog. Oops.
If you've been following along, you've seen what we've accomplished our first and second year at Twilight Court! Pretty impressive, I know.

After last year, our goals included:
- Install crown moulding throughout the house
- Finish trim work
- Re-side the house
- Update both bathrooms
- Weed and landscape the right side of our front stairway area
We were able to install crown moulding throughout the entire downstairs portion of our home. In fact, we literally just finished up the crown moulding in the bathroom and guest room last weekend. *Finally!*
I beleive "finish trim work" was in reference to the trim in the craft room? That's been finished, as well!!
We decided not to re-side our house, because the cost was outrageous. Most of the places that provided quotes for us said our siding wasn't even that bad, so we opted to get our entire house painted, instead. The painters were here last week, and our entire house is now a navy blue with white trim.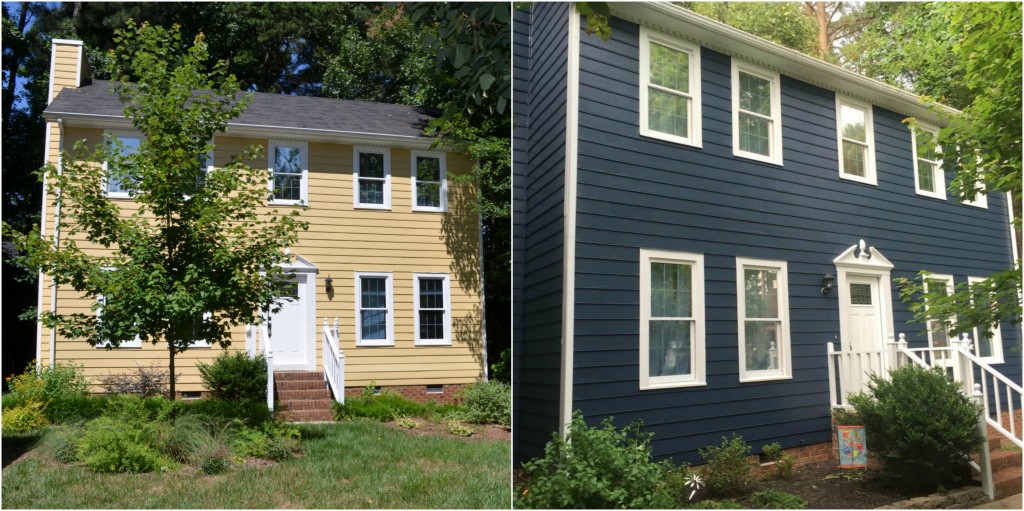 It's a vast difference, but it looks much more modern. Scott and I are really happy with how it came out. My only regret is that we didn't get more siding replaced before the house got painted. The dark color, along with the glossiness of the paint, really make some of the imperfections stand out. What do ya'll think?!
The painters will be coming back shortly (whenever the forecast doesn't show rain for 7 days straight) to stain our deck grey.
We're still trying to decide on a door color – any suggestions?
We didn't manage to update both bathrooms, but we did get around to renovating our downstairs bathroom – which really deserves it's own blog post. Hopefully we'll get to that soon and you can see the process, but for now, here's a before and after.
We also weeded the right side of our front stairway area, and planted grass. It looks much better! Unfortunately we don't have any great photos of this that show the difference.
Well, I think we've accomplished quite a bit this year, and I'm really proud of what Scott and I have been able to achieve in the last three years at Twilight Court. Renovations are starting to wear on me though, and they aren't as fun and exciting as they once were. I think I'm at the point where I just want to live in my home, and quit working on it – but I guess the work never ends, does it?
Looking ahead, we only have a few things that we're planning to accomplish this next year:
Refinance the house now that we've added so much value

Crown moulding upstairs

Renovate master bath

Clean up back yard

Get married!!!!!
We're hoping to refinance the house soon. With all of the work we've put in, we can refinance and save a few hundred dollars each month on our mortgage.
The bathroom renovation was the worst (I'd honestly rather renovate an entire kitchen again). So, it's unlikely that we'll renovate our master bath anytime soon, unless of course we decide to shell out the cash to have someone else do it, but I'll keep it on the list, because it really needs a makeover.
Of course, wedding planning is still underway! This time next year we'll be Mr. and Mrs. Douglass!! <3
Thanks for following along!!!