Well, it's crazy to think that another year has passed, and we've owned our first home for 5 years already! Although we haven't updated the blog as much as we did the first year or two of owning our home, it has still been a great way to see all of the progress we've made. Looking back at photos of the house when we first purchased it, compared to what it looks like now, is unbelievable- especially knowing that all of the change was due, for the most part, to our hard work!
This time last year we had just gotten married and were about to take on the master bathroom (our last major renovation for this home). It only took five months, but we finally finished.
Along with the master bathroom renovation, here were our goals/projects for this past year:
Crown molding upstairs
Get a new roof
Have some additional trees removed
Find land
As I said, we finished the master bathroom, and we were also able to cross off two other items from the list. If you remember our post from last year, we had a tree fall on our neighbor's fence. Well, this year, we had a tree fall on our house!
We were EXTREMELY lucky! The tree did very minimal damage. Of all the things it could have hit (window, brand new water heater, AC unit, roof, neighbor's house, grill, etc.), it only broke the railing on our porch and bent a gutter (which we had already planned to get replaced). It was scary to wake up at 5am to what you thought was thunder/an earthquake, but we are thankful that the damage was minimal. The tree that fell was actually one that we had had our eye on. It was pretty dead and leaning toward our house. Every time we had strong wind, we were reminded that maybe we should get that tree taken down, but it looks like we waited too long. The tree had other plans. So, we brought out the same company we used who removed some of our other trees with a crane, to cut up and remove this tree, as well as another tree beside our house whose branches were growing into the side of our house and roof.
We planned to get a new roof this year, and that was another reason we planned to get that dead tree removed. We didn't want to get a new roof, then have that tree fall and damage it. The roofing company came out just yesterday and replaced our roof.
It was 28 years old, so we knew that it was time to have it replaced. In addition to the roof, they are also scheduled to come back out and replace our gutters and install a leaf guard system. I'm a little embarrassed to admit that we haven't really been good at cleaning our gutters or hiring someone to do it, so they were quite full of debris. At one point, what appeared to be a sunflower was growing out of one of them. No idea where that came from, but hopefully the leaf guard system will resolve that issue! We had actually looked into having this system installed before, but it was very costly, and right before our wedding, so we were hesitant to spend the money.
We still have yet to install the crown molding upstairs. We have already purchased, and I believe painted, the molding for our master bedroom, but have not yet installed it. I guess that will be going on our list for the third year in a row…
Our search for land is an ongoing process. We started the process back in March, I believe, and have looked at 15+ properties so far. This past weekend we viewed a property that checked nearly all of our boxes. I don't want to say much about it at this point, but we're doing our research and it definitely has potential!

I think most of the larger projects with our home are finished. We've basically renovated the entire thing – it has a brand new roof and gutters, new paint on the siding, brand new kitchen, downstairs bathroom, and master bathroom, water heater, grass in the backyard, as well as all of the little things we've done, like removing the popcorn ceiling, installing crown molding, hardwood floors throughout most of the downstairs, and built-in cabinets in the living room.
So, looking ahead, we have a few minor things we hope to accomplish.
Goals/projects for this year:
Crown molding upstairs
Finish power washing our fence
Fix damage to the porch from falling tree
Find land
Get our house ready to sell
We already started one of our goals – power washing our fence.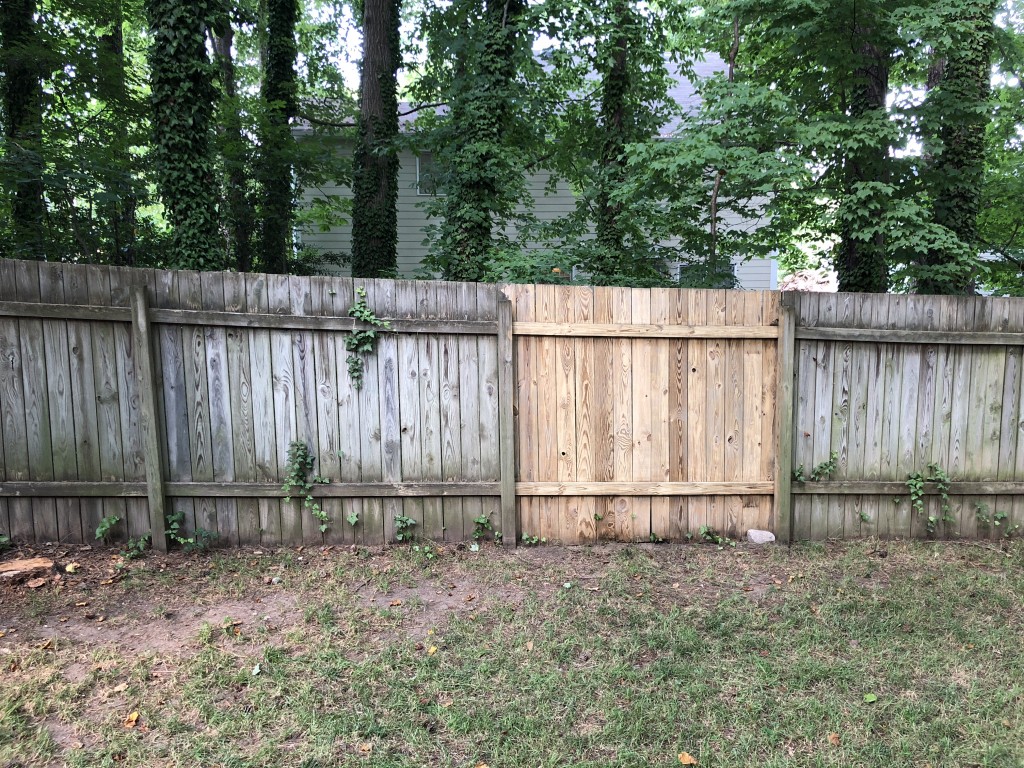 I knew our fence was getting grimy, but what a difference! It'll look like an entirely new fence when we're done.
Since we are in the process of finding land to build our dream home and wedding/events venue, it's likely that we'll be moving soon (hopefully within the next year), so since we won't live here much longer, and have nearly updated the entire house at this point, there isn't a whole lot left to accomplish here, but getting our house cleaned up and ready to be put on the market! It's an extremely stressful, but exciting time for us!